This post is also available in: 日本語
【This Restaurant Has Already Moved to Other Place】
https://www.halalgourmet.jp/restaurant/743026
"I want Muslim people to enjoy new options for food that is not either Japanese nor multi-national foods," says Mr. Yoshihiro Nakatani, the manager of HALAL-certified café in Kobe, Sharing Cafe Kobe Nagomi
Contributor: Yuki Fujii
This is an interview article with Mr. Yoshihiro Nakatani, the owner of Sharing Cafe Kobe Nagomi that acquired HALAL certificate, who mentions that "my passion out beat the risks." Mr. Nakatani was a businessman for 10 years before getting married, and is now running a family-owned HALAL-certified café in Kobe while raising his children. We asked the struggles he experienced in the past and present.
Profile: Mr. Yoshihiro Nakatani
He worked at a trading firm after graduating university. While working, he resided in Kuwait for two years. Many of his muslim friends came to visit after he came back to Japan, but realized that they were having a difficult time finding food and a place to pray. In the hopes of resolving this problem, he quit his job and entered the Graduate School of Tourism at Wakayama University to study "Muslim travelers' awareness about a visit to Japan," and acquired a Masters degree in tourism studies. Currently, he has a family-owned HALAL-certified café made by renovating his home in Kobe city. From his experience in participating in the Middle East Peace project, he runs the business with "world peace through sightseeing" as the motto, such that many people including muslim can enjoy meals together.
From living in Kuwait to attending Graduate School at Wakayama University
-Thank you in advance for having me interview you!
At first, I would like to ask you about your past. Please tell us how you decided to start the café!
I used to work at a trading firm, where I resided in Kuwait for two years. I made many Muslim friends during my residence, and they often came to visit me after I came back to Japan. That was about 10 years ago, and although HALAL-friendly stores are increasing compared to those times, there were almost none back then. Even if they were serving HALAL-friendly dishes, they were mostly Indian, Pakistan, or Turkish restaurants, and it was even harder to find prayer spaces. It was not even available in commercial facilities such as department stores, which was troublesome, especially for my Kuwaiti friends, whom are commonly very strict Muslims.
*Currently, drinking alcohol is prohibited in Kuwait. Alcohol is not offered in hotels or restaurants. (http://m.anzen.mofa.go.jp/mbconsideration.asp?id=49)
-I had no idea that Islam regulations in Kuwait is that strict. How did they spend their time in Japan?
For example, when we are trying to look for a HALAL-friendly restaurant to have for lunch, it becomes impossible to do sightseeing, which should be the main part of visiting. That is why we always skipped lunch. Regarding praying, one of my friends had a prayer mat in paper bag and was carrying it wherever they went. There were no places that had such facilities, so they always had both hands full. When the time came, we looked for parks to pray. I often asked to use the rooftop of department stores when they were not busy.
People had low awareness towards Islam back then, so one time when I asked department stores if I can use a private room, I got asked if I need an ambulance. (laughs) Every time my friend visited from Kuwait, I kept thinking to myself "This is so inconvenient!"
-And you were continuing your job while feeling such inconvenience.
I was working for approximately 8 years after returning from Kuwait. During those 8 years, my friends came to visit me many times regardless of all the trouble they experienced in Japan. However, at the same time, I realized that this inconvenience was not getting any better. As I was observing such harsh circumstances, it came to me that I must act and resolve this problem, so that is why I chose to quit my job.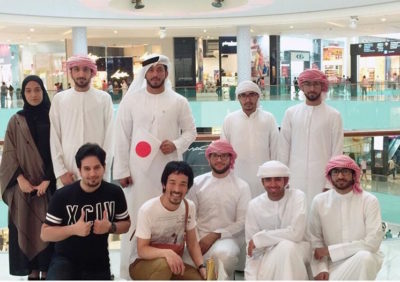 (Friends from Kuwait. Mr. Nakatani is fitting in with the crowd!)
-Why started your studies in Graduate School of Tourism at Wakayama University after quitting your job. Why did you choose Wakayama University?
Tourism is not a very popular field of study in Japan, but Wakayama University is the only place in Japan with "UNWTO. TedQual (Tourism Education Quality)" certificate, a certification by UNWTO Themis Foundation, which is an association related to the World Tourism Organization (UNWTO). I chose Wakayama was the best place to study tourism.
*The School of Tourism in Wakayama University acquired a certificate for "UNWTO. TedQual (Tourism Education Quality)", a certification for UNWTO Themis Foundation, an association related to World Tourism Organization (UNWTO). With the support of Center for Tourism Research, it has cleared over 100 strict evaluations and became the first University in Japan to have this certificate.
(https://www.wakayama-u.ac.jp/news/2017012300255/)
-What kind of studies did you do in graduate school?
The theme of my study was about the muslim travelers' awareness about a visit to Japan. I was interested in what they feel is necessary when and if they come to Japan, and why they believe that as necessary, and interviewed a total of 280 people in three different countries including Qatar, Kuwait, and UAE by field work.
I did a detailed study on, for example, what they need to look at when traveling to a non-Islam country. Also, I asked questions such as "Do you change any of your plans depending on if you are going with only male or when you take a female person with you?", etc. Through this questionnaire, I was studying on what we need to change in Japan to have them visit us.
"new choice" for Muslims; what it means to manage a HALAL-certified café
-You started the café after finishing graduate school. What made you decide to open a café?
The area of food interested me. I knew that many people experienced trouble with food, and although HALAL-friendly restaurants are increasing in recent years, most of them are Japanese food, tea-ceremony dishes, sushi, and ramen. Besides from that, there are multinational food such as Pakistani or Indian. Then I realized that pasta and hamburgers, which are commonly found menus, were often not available. Since tourists and Muslims living in Japan do not eat Japanese food and multinational foods every day, I decided to open a café to create new options for them.

-Please tell us about your menus.
Regarding our menu, we would like our customers to eat foods unique to Japan. We serve Japanese-style dishes including "Sukiyaki pasta," "Teriyaki chicken pizza," "Hamburg steak made with wagyu and domestically grown chicken." There are some tourists and Muslims living in Japan that do not like Japanese food. However, that does not mean that they do not want to eat food that are domestically grown in Japan.
Since they took the time to travel all the way to Japan, I would like our customers to experience Japan through our menus.

(Sukiyaki pasta)
-I see…I understand that sometimes you want to eat things than Japanese food. Also, it's only in Japan where you get to taste Japan-grown foods! Are there anything else?
I would say desserts. There are many customers in our café that held a girl's only gathering while eating desserts.
-Excluding commercial products, there are not many HALAL-friendly desserts like cake and parfaits.
So you can enjoy a full-course meal perfect for a girls only gathering, including lunch, dessert, and drink menus. (laughs)
-Since it is a café with relaxing atmosphere that is different from other restaurants and ramen shops, it is great for girls to gather! I often go to Indonesia and find a lot of cafes there. Since many people in Indonesia cannot go to bars or izakayas, cafes are a very important part of their lives.
It is also great for people that like sweets.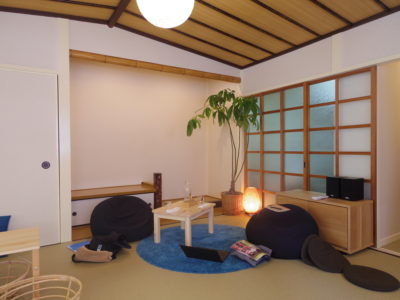 (Such a relaxing atmosphere. It makes me want to take a nap)
-Are there any special offers from the café other than the menu?
The café is also nice for women and children, and not just Muslims. We even have baby diapers ready for customers to use. Of course, we have wudu and space for praying along with prayer sets including Qibla compass, mat, worship wear, etc.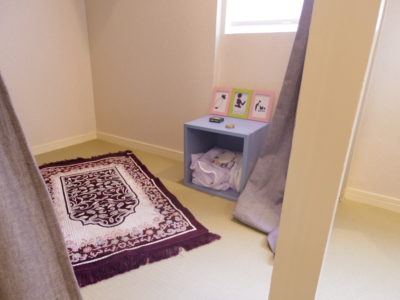 (The café is fully equipped with a prayer space!)
-Regarding the location, is there a reason you moved from Wakayama to Kobe?
There are two reasons. The first is because of the Kobe mosque. By having the Kobe mosque near us, we often get Muslim tourists and Muslims living in Japan as customers. About 300 people visited the mosque for the Eid al-Fitr this year and traffic control was required. Another reason is the regulations of Hyogo prefecture.
Another reason is the system of Hyogo Prefecture. Hyogo Prefecture has a system for promoting entrepreneurs interested in immigrating to the Prefecture, so it is a very nice environment for starting a business. They have good financing deals and is certified by an administrative, so this is a big plus. Islam-friendly services has its risks too. Especially because this café is in a residential area, having a political recognition will also help to gain trust from local people.
As Mr. Shugo, the representative of Halal Media Japan was mentioning before, I believe it is very important for us to work in collaboration with public and private sectors, mosque, etc. to start business related to HALAL.
Even if I work hard, or if Hyogo Prefecture worked hard, there is no meaning unless we all pitch in. It is important for everyone to support each other to backup what we want to achieve and agree to opinions.
Assistance and partial refund of expenses for business startups relocating from outside the prefecture and establishing a business in Hyogo (https://web.pref.hyogo.lg.jp/sr10/furusatokigyou.html)
-What was the hardest thing you experienced when starting your restaurant?
Getting the HALAL certificate was hard. There were so many paper works involved, and required a lot of time and money. However, I believe that it is the best mark to show people that it can be consumed by anyone without worries, so I am very glad that I got the certificate. We receive consultations from Muslim people that visit Japan who are not able to eat at restaurants that also serve alcohol. Our HALAL certificate is issued from a religious institute, so regardless of controversial opinions, we believe that we can serve customers that think Muslim-friendly restaurants are not enough to feel safe.
There are many different types to the HALAL certification, and many restaurants serve alcohol regardless of acquiring the certificate. Meanwhile, even without having a certificate, we can please Muslim customers by having proper HALAL-friendly services. The interpretation of Islam depends on countries and regions, so it is important to think through what you want to get the certificate for.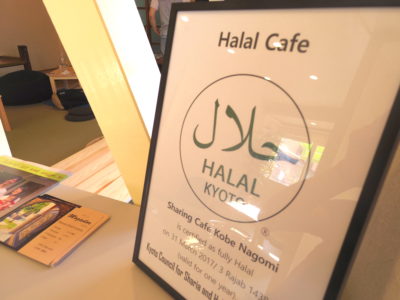 (HALAL-certified!)
-I am sure you felt risk or felt anxious about quitting your job and opening a café in a new environment while you still must support your family, how did you overcome these feelings?
Of course, there were risks and had some anxious thoughts, but my passion was more superior. I believe that nothing can beat passion. I have worked and achieved great results in the past, also with great passion. Nothing works out by not putting much effort, and although the success is small for working very hard with strong passion, I am very glad that we this café with cozy and happy atmosphere!
-So the café exists here today because your passion exceeded all the possible risks!
To achieve a future where many people can enjoy eating together
-I believe the café is also open to Japanese people as well, do you get a lot of Japanese customers too?
Of course! Recently, we have been getting a lot of customers that are interested in different cultures. Some customers came and said, "I would like to hear from you about HALAL because I interact with Muslim people." People that are interested wants to know these information, so I teach them about my experience and HALAL-friendly services. I am very happy that our café is attracting people of all ages, including students and elderly people in my parent's generation.
For example, many people believe that HALAL-friendly services involve lots of elaborate efforts, so we have them eat the actual menus we serve and teach them detailed rules about HALAL.
-At last, is there anything you would like to mention about your restaurant to the people reading this article?
We are aiming to become a restaurant that is friendly to Muslims and children, and are always prepared with prayer spaces and baby diapers so that customers can come any time. For food, we serve a variety of dishes that are not commonly available in other places such as Wagyu burger and Sukiyaki pasta, which is neither Japanese or Western. The restaurant is family-owned, so we would be happy if you can come visit us like going for a homestay!
Also, they have started new approaches to attract more tourists, so please check them out on SNS.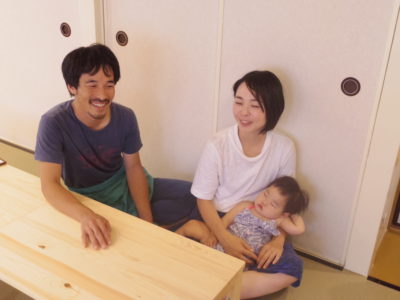 (The couples after interview with their napping daughter)
Editorial note
Mr. Nakatani is running his family business in a residential area of Kobe. Unfortunately, I was not able to meet their other children, but I had a chance to talk to both Mr. Nakatani and his wife. When Mr. Nakatani was debating if he should quit his job or not, Mrs. Nakatani pushed his back and said "Why don't you just quit rather than distressing yourself?" I felt that the effort of the entire family paid off for fostering the environment where all Muslims visiting Japan with strong devotion can relax and enjoy. The café had such a homelike, relaxing atmosphere and I had a lot of fun interviewing. Thank you very much!
Check Sharing cafe Kobe nagomi website from here! ↓
Sharing Cafe Kobe nagomi
ADDRESS

33-10, Kanda-cho, Hyogo-ku, Kobe-shi, Hyogo

OPEN

Only for reservation

TEL

078-599-8090

WEB SITE