This post is also available in: Indonesia
Where to Enjoy the Onsen in a Muslim-Friendly Way?
Onsen is a natural hot spring that is found everywhere across Japan. Oita Prefecture, Hakone in Kanagawa Prefecture, Kusatsu in Gunma Prefecture are some signature places to get yourself to soak and relax in mineral-rich hot springs.
Talking about Japanese bathing culture, everyone in a public bath has to be naked (and most places do not allow those with tattoos), which is quite hard for foreigners, especially Muslims. But nowadays, many ryokans (Japanese traditional inn) have private onsen and bathing clothes to cover your body when going to the public bath in the facility so that Muslim customers can still enjoy Japanese-style hot springs in a Muslim-friendly way.
These are ryokans to enjoy onsen in a Muslim-friendly way that you have to try when visiting Japan!
1. Hotel & Ryokan Ayunosato, Kumamoto Prefecture
Hotel & Ryokan Ayunosato is the first and the only halal-certified accommodation in Kumamoto Prefecture in the Kyushu area, serving a delightful relaxation to enjoy the extraordinary experience with a halal meal course that allows you to enjoy the juicy Hitoyoshi's halal wagyu beef! They also have a private hot spring in the room and special bathing clothes for those who want to try the public baths.
See Also
Halal Certified Ryokan in Kyushu Area, The Hitoyoshi Natural Hot Springs "Hotel & Ryokan Ayunosato"
Vegan Course At Hotel & Ryokan Ayunosato
Address

TEL

0966-22-2171

Reservation

3 days in advance

Website

Halal Gourmet Japan
2. Satoyu Mukashibanashi YUZANSO, Shiga Prefecture
Satoyu Mukashibanashi YUZANSO is one of the most recommended Halal-certified ryokans in Shiga Prefecture in the Kansai area. It's located near the famous Biwa Lake which allows guests to enjoy traditional private tubs with a spectacular view of the Lake.
The ryokan has a Halal-certified dinner meal and a Muslim staff will assist you to enjoy the meal. There is also a prayer room inside the ryokan that makes the ryokan more special compared with other ryokan.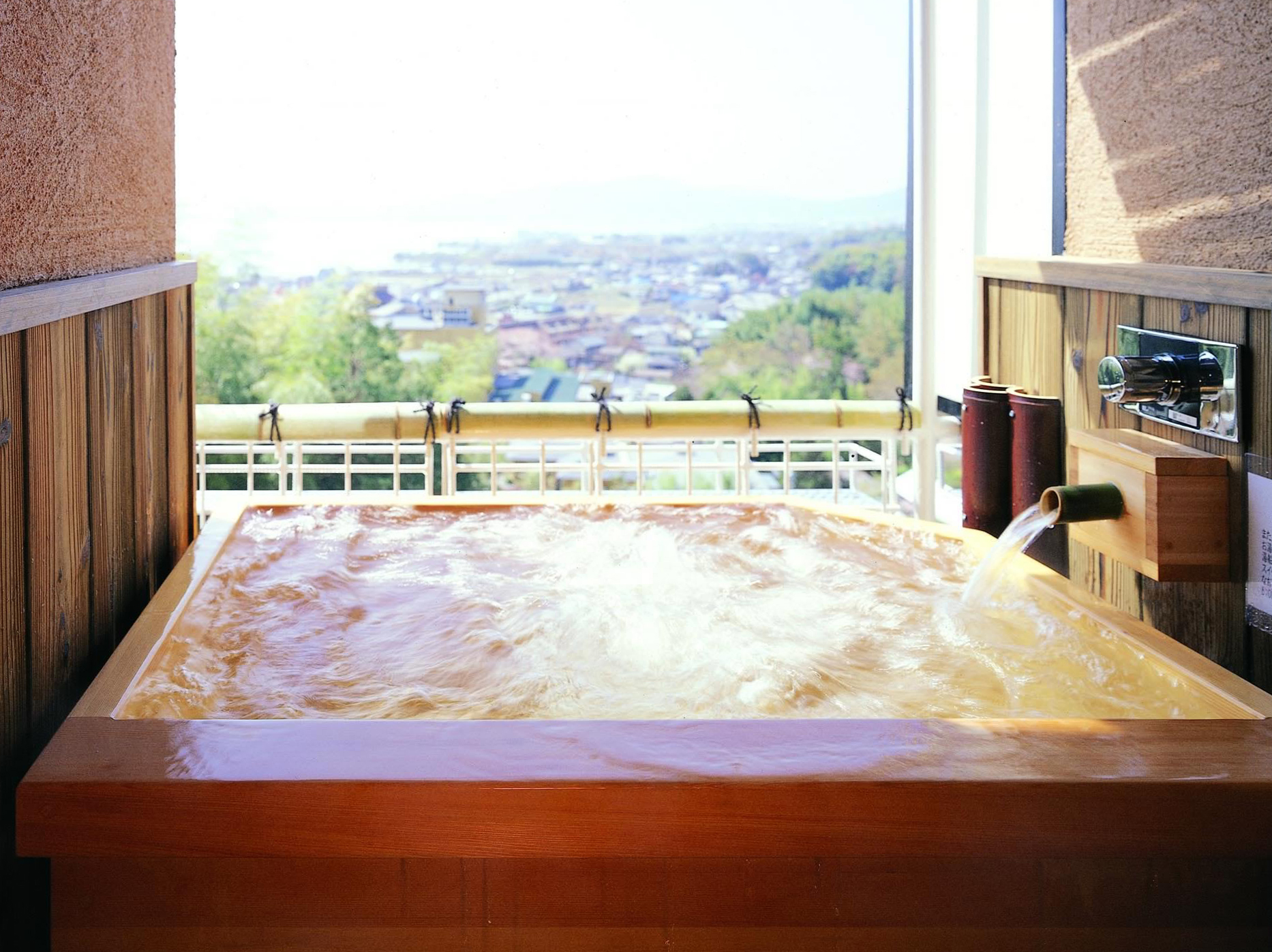 See Also
Delicious Muslim-Friendly Course Meal at Japanese Ryokan Near Lake Biwa, YUZANSO
3. Spa Village Kamaya, Nikko, Tochigi Prefecture
Spa Village Kamaya is precisely located in Oku Nikko. The onsen water comes directly from one of the best onsen sources. They serve a halal menu using local ingredients such as its specialties yuba (bean curd skin), fish, vegetables, and mushrooms. They have a family bath which you can use without reservation and without additional charge.
See Also
Halal Menu at the Hot Spring "Spa Village Kamaya"
Address

2549-28 Yumoto, Nikko-shi, Tochigi 321-1662, Japan

Access

From Tobu Nikko station, take Tobu bus for 90 minutes to Yumoto Onsen bus stop

TEL

0288-62-8228

E-Mail

Web

Halal Gourmet Japan
4. Kinugawa Park Hotels, Nikko, Tochigi Prefecture
Kinugawa Park Hotels is located approximately 5 minutes by walk from Kinugawa Onsen Station in Tochigi Prefecture. There are private bathrooms for Muslims, and they serve a Muslim-friendly menu by request from the customer. Also, there is a prayer room also with a place to wash our feet and hands.
See Also
Muslim-friendly Onsen hotel "Kinugawa Park Hotels"
Address

1409 Ohara Kinugawa-onsen, Nikko-shi, Tochigi Prefecture

TEL

0288-77-1289

Website

Halal Gourmet Japan