Shizuoka Prefecture is located in the center between Tokyo and Kyoto that sits facing the Pacific Ocean. Shizuoka Prefecture has abundant fresh yet tasty food with a diverse climate and rich nature that makes it known as the gourmet paradise.
The prefecture is divided into 4 areas; the west area with the blessings of green tea, the central area that is rich with nature, the east area with the magnificent Mt. Fuji, and the Izu area with the beautiful nature of UNESCO Global Geopark.
In this article, we introduce places you should explore when visiting Shizuoka!
Before exploring, we recommend you prepare Shizuoka Muslim Friendly Guidebook and download Halal Portal for a convenient journey in Shizuoka!
Explore Shizuoka Video
Where to Visit
Mishima Skywalk
It is the longest pedestrian suspension bridge in Japan at 400 meters long! You can enjoy the picturesque view from above, including the clear view of Mt. Fuji, the mountains in Izu, and the deepest Suruga bay.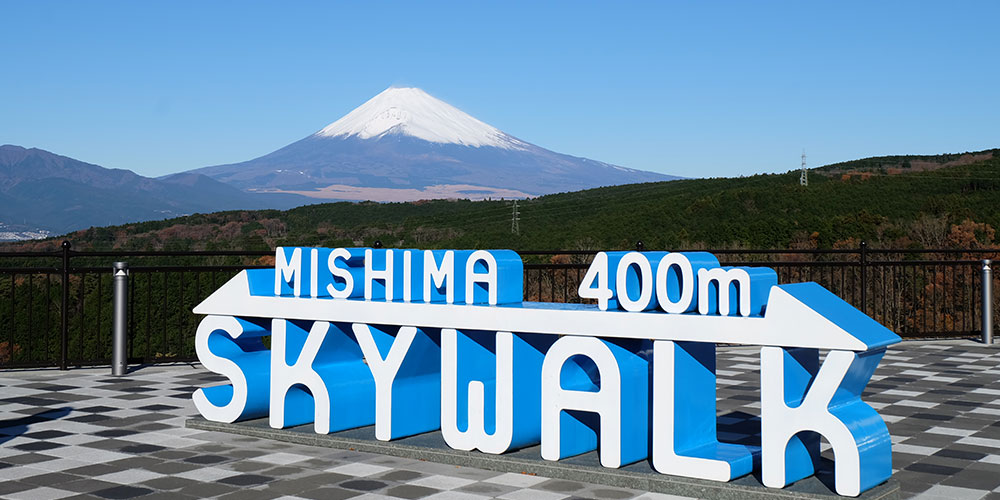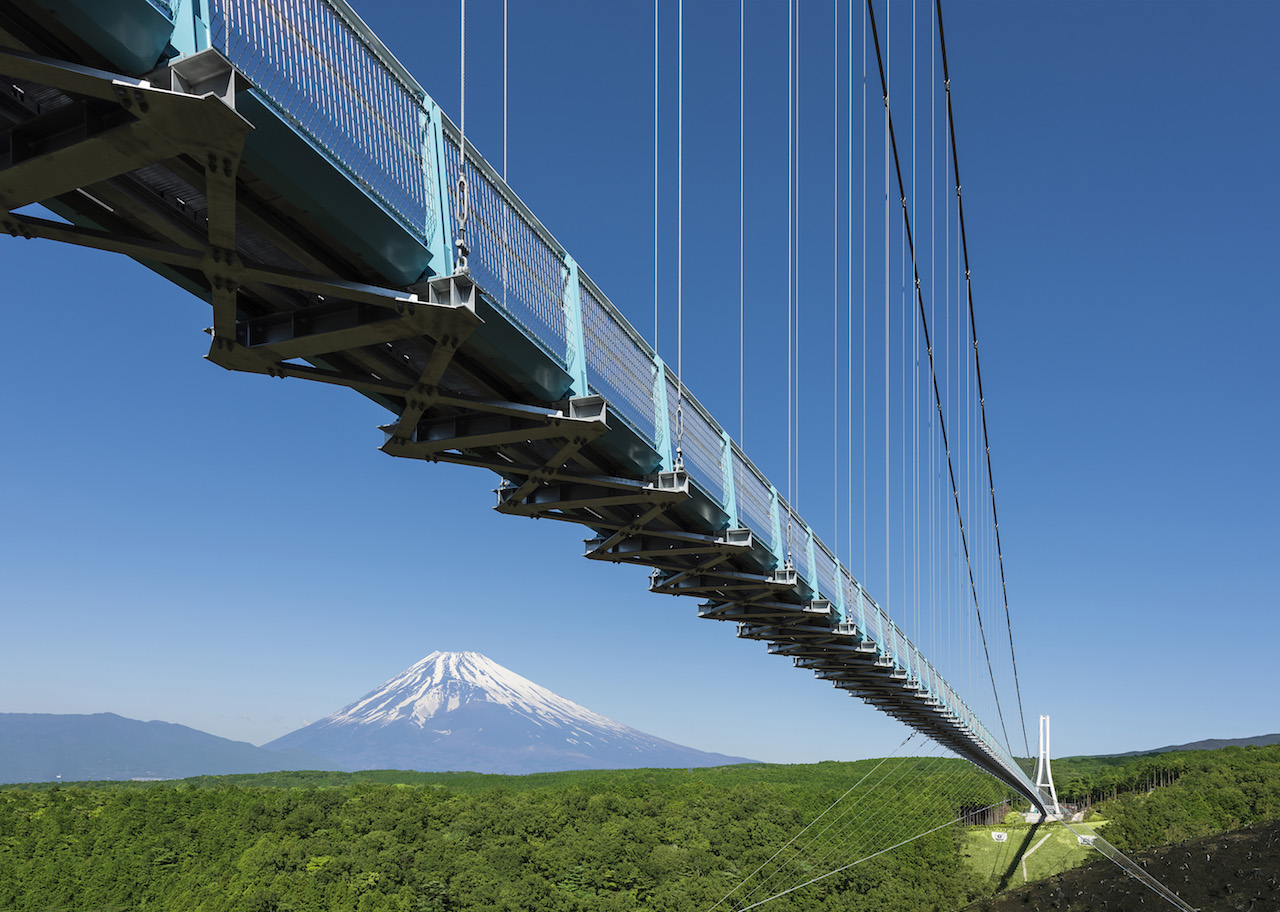 The area divided into 2, North Area where you can enjoy a lot of activities of the long zip slide and segway to cliff challenger and 170 varieties (including the Skywalk original variety!) of Hydrangea at Hydrangea trail and South Area where you can enjoy the beautiful flowers at the Skygarden and grab original goods at Skywalk shop.
Access
20 mins ride by bus or taxi from the JR Mishima Station.
Admission Fee
Adults: 1,100 yen
Junior/high school students: 500 yen
Elementary students: 200 yen
*All prices including tax
Official website (in Japanese)
English pamphlet
Izu Fruit Park
This park is famous for its fruit picking experience, situated just 12 mins ride by car from the Mishima Skywalk. The strawberry comes into season from December to May which will make you surprised at how massive, fresh, and sweet it is! You can pick and eat the strawberry as much as you can. Try to have it in condensed milk!
Besides strawberries, you can experience melon picking (June to September) and orange picking (October to December) too!
Access
15 mins ride by bus or taxi from JR Mishima station.
Admission Fee
Vary on each fruit season. Please check the website for more info and reservation.
Mt. Fuji World Heritage Center, Shizuoka
The museum is build dedicated to Mt. Fuji, to commemorate its designation as a UNESCO World Heritage Site. In this museum, visitors can experience Mt. Fuji virtual mountain-climbing on a spiral slope! Furthermore, when visiting the museum, you shouldn't miss the sleek area with an open-air deck that offers visitors a spectacular view of Mt. Fuji at the Observation Hall on the top floor!
Access
8 mins walk from Fujinomiya station.
Admission fee
300 yen
Shizuoka Masjid
This is the place that you definitely have to visit! Shizuoka Masjid opened in a warehouse that facing the seaport. Spot the incredible lighting using Japanese paper inside the mosque!
Access
10 mins walk from JR Mochimune station.
Tea Museum Shizuoka
We believe that you are familiar enough with how famous Shizuoka with its tea is! The museum introduces the tea industry, history, and culture, as well as promoting a healthy and wealthy standard of living with tea. One more great thing is, you can enjoy the freshest tea from the locals!
Access
5 mins by bus from JR Kanaya Station.
Admission fee
Adult 300 yen.
Students are free.
Kakegawa Kachouen
Kakegawa Kachouen is an amusement park that allows visitors to interact and get up close to birds in a massive greenhouse! There is also a bird show that is very attractive where the birds behave according to instruction. Also, you shouldn't miss the adorable penguin walk!
*Prayer space available.
Access
10 mins ride by bus from Kakegawa station.
Admission fee
Adult 1,300 yen.
Elementary school 600 yen.
Hamamatsu Flower Park
Hamamatsu Flower Park is a huge botanical garden famous for its seasonal flowers all year round, especially sakura and tulips in spring! Make sure to not miss the Flower Train that will bring you to go all the way around the park enjoying a lot of blooms.
View this post on Instagram
View this post on Instagram
Access
40 mins ride by bus from Hamamatsu station (north exit).
Admission Fee
Adult 1,000 yen.
Elementary school 500 yen.
Official website (in Japanese).
Suruga Bay Ferry
Suruga Bay is the deepest bay in Japan that allows people to ride a ferry enjoying its breeze with a magnificent view of Mt. Fuji! The ferry connects the central area and the Izu area for 70 mins, which needs 120 mins to ride by land!
Admission Fee
Adult ¥2,300 (return trip ¥2,070).
Children ¥1,150 (return trip ¥1,040).
Dogashima Marin
Dogashima Marin is a representative scenic spot in West-Izu, a deeply indented coastline with beautiful views and natural good harbors. Go all the way to the Dogashima cave with a cruise course that will surprise you with a glorious view when the sunlight coming in through the cave ceiling.
Admission Fee
The fare varies according to the route. Please check the official website for more information.
Kawazu Sakura Viewing
Enjoy the beauty of Kawazu Sakura, the sakura that blooms faster than Someiyoshino combined with the bright canola flower in the Izu area! Kawazu sakura blooms from the end of February to early March.
Gotemba Premium Outlets®
Gotemba Premium Outlets® is a famous yet huge shopping arcade in Gotemba City, Shizuoka with a number of stylish shops and of course, with the view of Mt. Fuji! The outlets have a convenient prayer room so you can do shopping at ease!
Access
20 mins ride by a shuttle bus from Gotemba station.
Where to Have Halal Foods in Shizuoka
Yamashichi
It's a sushi restaurant that offers authentic sushi using halal-certified seasonings and fresh seafood taken from Suruga Bay. One of the best places to enjoy the freshest Shizuoka specialties.
Moreover, you can have a convenient time praying at a prayer room available in the restaurant! The owner made a gorgeous sajadah from the traditional Japanese sasha, fujiobi!
Access
5 mins walk from Shin-Kambara station.
Official website
Yamashichi at Halal Gourmet Japan
Bunbuku
Bunbuku is a Japanese restaurant serving a variety of halal meals, from fried chicken and fried shrimp to steak which you can enjoy together with that infamous chili sauce!
Restaurant Windy
Located inside the Kayama Yuzo Museum close to Dogashima Marin, the restaurant Windy serves various Muslim-friendly meals! They also have a spacious prayer room facilitated with wudu' space.
Access
60 mins ride by bus from Shimoda station or 120 mins ride by bus from Mishima station.
Official website
Restaurant Windy at Halal Gourmet Japan
Kintokitei
Kintokitei is one of the leading halal restaurants in Shizuoka that offers a variety of halal meals, from kamameshi (a Japanese dish in which rice, meat, and vegetables are served in a small pot) as their specialties to the juicy halal meat dish, which you can enjoy with the view of Mt. Fuji! Moreover, they have a spacious prayer room you can use to have an incredible trip at ease.
Kintokitei on Halal Gourmet Japan.